Century Gold Coast
INTRODUCTION
Lasting preferences for earning maximum profits without any attributions by your own hotel-share inherit-ably originated from a 'Sab Kabla Dolil'. Century Group started its expedition of promotion for implementation of a Satellite Tourism Town, in the name & style , Century Kuakata Model Town, CKMT, the ever-first & largest complete tourism parish under way in the South Asia & Pacific, gallantly emerging in the coast of Bay-of-Bengal in Kuakata of Patuakhali District of Bangladesh. Our challenging & hard-nosed scheme has been so far highly admiring by all communities of the country & abroad, incl Govt. NGOs, Foreign Diplomats & Agencies etc. Considering the continuous demand of the tourism-lovers, we have initiated a plan to build a world class Beach-Hotel & Spa. complex in the style, Century Gold Coast at the hub of Kuakata within Sector 1 & 3 of CKMT attributing all amenities of five-star equivalent status on the basis of Share-Ownership, usually supported by Century Hotel & Resorts Co. Limited (CHRCL), a concern of Century Group of Enterprises.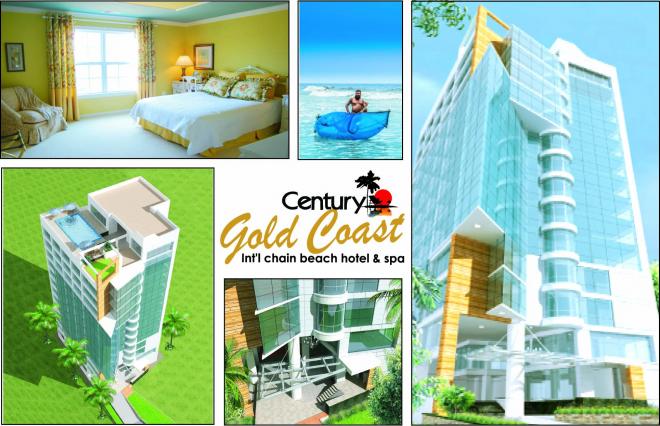 Resulting from our vast experiences in shaping such a mammoth tourism township, we are raising this 15-storied plus basement Int'l Standard Beach Hotel & Spa Complex. The complex is well featured-out by an 'exclusive beach' covering 50 decimals of land, very adjacent to the sea at zero point within the embankment & situated nearly at the significant places where the rare scenarios of sun -rise & sun-set in the horizon of deep-sea & sky can be easily seen.
The hotel complex shall be characterized by a series of world class services & facilities including spa, water-games, bar, juice/ice-cream parlor, roof-top swimming pool,  Bar-B-Q, changing room, banquet hall, restaurant, seminar room, ATM booth, spacious car parking, gym, shopping mall,  all modern facilities, world class exclusive suites  etc, certainly to be unparalleled one for the first time in Bangladesh.
Under direct control of  internationally renowned Consultant Architect & a group of famous Engineers of the country & abroad, the complex, which is consisting of more or less 60,000 sft concrete structures has been made up to the mark of international standard.
Meanwhile, many international hotel operating groups express interests  to work with the company.
Thus, you are requested to be a proud Owner of this grand complex on Proportionate Share-Ownership permanently at very competitive costs in easy monthly /at -a - time progress and earn right away on monthly/quarterly/half yearly/yearly basis permanently! Besides, you can enjoy life at your own suite any in a define schedule for 6 d 5 n in a year as you wish for life-long.
Pls, go through details & visit the scheme before invest your valuable money. For further details, kindly contact with our Marketing Division.
PROJECT LOCATION
At the hub of Zero Point & bordering to the Embankment or Main Highway, well surrounded by & at the middle of District Administration Dak-Banglow, Parjatan Corporation Hotel, WAPDA Rest House and closely neighbored to 'Sekandar Bording', the prehistoric hotel of Kuakata, usually placed aside the rare place of the world, where sun-set & sun-rise can be seen from the place in the Sector 1 & 3 of Century Kuakata Model Town.
PROJECT at-a GLANCE
Project: Century Gold Coast International Chain Beach Hotel & Spa.
Location: Sector - 1 & Sector-3, CKMT, Zero-Point, Kuakata
Concept & Project Manager: Century Hotel & Resorts Co. Ltd.
Builder & Developer: Century Realty Limited
Operational Management: Local/International Chain Hotel(s) Group.
Total Share: 5,000 of which, 2,500 for NRBs & 2,500 for local/foreign investors.
Total Land Area:  50 (fifty) decimals.
Hotel Complex: 15 - Storied plus Basement. Total Construction Area : + 60,000 sft.
Car Parking & Office Building : On 33 decimals land
Construction Begins:  Going On.
Handover: December, 2021 (Inshallah).
GENERAL FEATURES & AMENITIES :
* Earthquake Designed Criteria as per BNBC Code on Rikhter Scale 7.5 & 25 Feet High Tide of Tsunami.
* Wind Speed Considered at 260 km/h.
* Eco Friendly & Carbon Neutral Establishment.
* Well Designed Opened Room.
* Adequate Car Parking.
* Business Centre.
* Full Furnished Suite with Imported Furniture
* Locker
* Closet
* LCD TV with DVD Player
* Refrigerator
* Central/Individual Air Condition System.
* Divan with Matress
* Imported Bathroom Fittings with Hot & Cold Water Supply
* Bath Tub
* Mirror Polished Tiles
* Non-slipy imported tiles in floor.
* Carpet & Decorative dreamy candle light.
* Central Music System.
* Heli-pad & many more.
Other Facilities
* Reception cum Waiting Lounge
* Banquet Hall, Juice Bar, Ice-cream Parlor, BAR.
* Deluxe Suite, Changing Room,
* Seminar Room
* Food Court, Restaurant, BAR B-Q
* Roof Top Swimming Pool.
* Shopping Mall.
= Gymnasium.
= Spa.
Steam Bath, Jacuzzi, Sauna,  Aeroma, Message, Beauty Parlour, Face Bleach,Threading, Saloon, Waxing etc.
* Water Sports.
* Spacious Separate Car Parking Space.
* ATM Booth.
* Natural Elegance with Greenery.
* Emergency Medical Services.
* Centrally Air Conditioned.
* Security Station with CC TV Surveillance, Smoke Detector & Water Sprinkler.
* Dry Type Free Extinguisher etc.
* High Capacity PABX Intercom Telecom System.
* Standby Generator etc.
Besides
* Permanent Proportionate Ownership * Free Accommodation/Rental Income
* Discount Facility on Food/Beverage/Conference/Seminar & Others Facilities n' Services for Lifelong.
* Discount on Extra Room at Pick & Off-pick Season.
* Reservation Priority.
* VIP Treatment.
* Transferable Ownership.
* Intercity Transportation Facility.
FREQUENTLY ASKED QUESTION [FAQ] :
What is Share Ownership ?
When a person or more than one person purchase a thing on share basis & become(s) owner of the same, the ownership of the thing is called 'Share Ownership'.
What are the principal benefits of Proportionate Share Ownership.
Firstly, you can purchase only the portion you require. As an example, you do not need a 'hotel suite' for the whole year as you wish to visit Kuakata. If you desire to stay in Kuakata for a while or for a couple of weeks only, in that case, it will be enough for you to stay in your own hotel suite for a few days only, not for year long. In that case, you can proportionately earn a lot from your own hotel suite & all other parts of the complex through rent for rest periods of the year permanently. Proportionate Share Ownership ensures investors such benefits easily.
How many 'investors' can jointly purchase a 'share' of Century Gold Coast'?
A person alone or with other(s)  jointly can purchase any number of share permanently through 'Saf Kobla Dolil'. The purchaser(s) can be entitled for ever of a proportionate un-demarcated & undivided parcel land along with all properties of the hotel including spa, gym, business centre, seminar/conference room, bar, swimming pool, restaurant/banquet hall/basement & surroundings, ground floor, roof-top swimming pool, suits, basement, car-parking, office building(s), all equipment installed in the premises, vehicles, furniture, fixtures & all other properties designated as the properties of the hotel etc against the share(s) held by the purchaser(s).
How many 'total number' of 'share' of the complex?
The total number of share of the project is 5000. of which, 2,500 shares are allotted for NRBs only. The rest 2,500 are ready to sell among local investors & foreigner(s) only.
How long in a year, an investor can stay in the hotel complex ?
In every year, any share holder can stay in his/her own suite (s)  and take benefits of spa for 5 nights 6 days for each 'Share'
How long share ownership is valid for ?
The share holder must enjoy his/her proportionate un-demarcated & undivided portion of the 5-star equivalent hotel complex incl. its exclusive suit(s), all movable, unmovable properties permanently generation after generation by 'saf kobla' registered deed.
How much will pay the cost for each share ?
a. Each share value worth BDT 1,99,000 only.
For installment, any certain amount can be settled   as token booking & the rest shall be progressed in 12 (twelve) subsequent
EMI within 10th instant of each belonging month.
For at-a-time payment, the full considering money against each share shall be paid within 15 (fifteen) days of the signing date
of the prescribed sale-form assigned by Marketing Division of the company. Notable, at-a-time payer shall be benefited BDT 1000
(one thousand) only per month from the succeeding month for the 48 (Forty Eight) Month Maximum (during construction period).
How a share holder can lease his/her proportionate share/part of the complex?
At first, a society will be formed by all share holders. Then, the society will make an agreement with a 'Management Committee' of internationally/locally renowned professional 'Chain Hotel Operation Company'. Such company will take over all responsibilities of operations of the complex. According to the signed agreement, the 'Operating Company' will deliver the profits earned through leasing the properties of the complex owned by the share holders to the society & the society will distribute the earned profits among its valued members (share holders) proportionately.
Will an individual or joint share holder(s) sell his/her/their share ownership(s)?
Yes, the joint/individual share holder(s) can sell/transfer his/her/their share(s) freely any time by a 'saf kobla' registered deed(s).
What document(s) a share holder can be obtained against purchase of a share?
A purchaser will get a registered 'saf kobla' deed(s) of permanent ownership of proportionate land of the complex incl. car parking & office building along with proportionate concrete area of 15-storied plus basement building all over & all movable/unmovable amenities, equipment, furniture, fixture etc against the purchased share(s).
What is 'Chain Hotel' ?
A group of international standard star graded hotels designated as a single brand. Each member of such hotels group designated as a single brand is called 'chain-hotel'. Example, Sheraton, Pan Pacific, Radisson, Westine, Holyday Inn, Marriott etc.
What are 'beach hotel' & 'Spa.' ?
Beach hotel is usually situated near the beach, where private & exclusive beach including water games are facilitated. At present, such hotels are well outfitted by modern technologies & facilities, originated from 'Relax logy' allowing scientific practices for physical & mental freshness & healthiness, commonly popular as Spa.
What is the total quantity of land belonged to Century Gold Coast Beach Hotel & Spa.?
50 (fifty) decimals of land incl. separated car parking space & office building.
What is the distance between sea beach & the hotel complex ?
Adjacent to the sea beach.
What primevals are found near the complex?
Rakhain Village, Ancient Buddhist Temple, Prehistoric Place from where, people can see sun-set & sun-rise, the world famous mangrove forest named Sundarban etc are found only within 20 kms of the complex.
Why do people buy 'Hotel Share' of CENTURY GOLD COAST Int'l Chain Beach Hotel ?
The complex has been designing & implementing by a renowned architects group and a group of specialist Engineers from BUET near zero point of Kuakata at the most lucrative places , very adjacent to the sea beach. The building is 15-storied plus a basement & featured out by world class five star equivalent standard amenities & equipment. World class fixture, fittings, furniture, other facilities like changing room, shower room, juice bar, bar-B-Q pit, storage room, Spa.,  beach umbrella, beach chair, water sports, spacious car parking, office building, staff room, surveillance camera, security system, gymnasium, roof top swimming pool, sauna, jaccujii, steam bath, saloon, parlor, restaurant, banquet hall, seminar hall. exclusive suits etc. all five standard facilities are to be ensured in the complex. Very simple & smaller installment payment can be chosen by the buyers at very competitive price. Proportionate profit margin is attractive and all investment will be soon higher within next few couple of years. The entire scheme has been protected from all natural disaster by making a system to protect at-least 25 feet high tidal bore and 7.5 richter- scale earth quake. All establishments will be ensured by eco-friendly system & 100 % carbon free system. The scheme is surrounded by greenery.